Beef Wellington Sauce - How To Make It?
Beef Wellington Sauce: How To Make The Perfect Accompaniment For This Elegant Dish
Taking advantage of the flavors of shallots (mild onions), garlic, rosemary, and red wine this sauce really tops this dish off perfectly. While it may seem a bit fancy, this is not hard to make. Anyone who is even thinking of tackling a beef wellington can surely execute this delicious sauce. The techniques used can be carried over to other sauces and will stick with you through the years. I would also consider using this sauce on chicken and pork dishes of all kinds. I hope you enjoy it.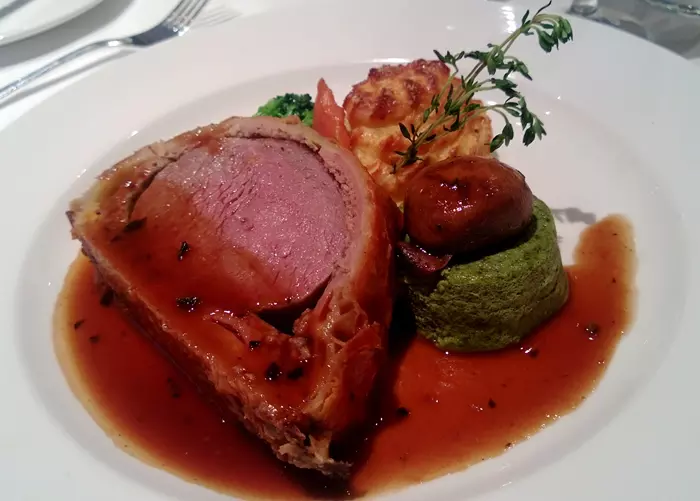 Beef Wellington with stuffing. - Source: flickr.com / Shannon Hurst Lane; License: Attribution-NoDerivs 2.0 Generic (CC BY-ND 2.0); License link: https://creativecommons.org/licenses/by-nd/2.0/deed.en; Link: https://www.flickr.com/photos/shannonhurstlane/9063815203
| | |
| --- | --- |
| Cooking time (duration) | 35 Minutes |
| Number of servings (yield) | 1 Cup |
Ingredients
1/2 pound of shallots (sliced)
1 clove of garlic (lightly crushed)
1 sprig of rosemary
1 1/2 cups of beef or brown chicken stock (preferably homemade)
5 tablespoons of balsamic vinegar
1 1/2 cups of red wine
4 tablespoons of olive oil
1 teaspoon of butter
Ground black pepper (to taste)
Instructions
To begin with your beef wellington sauce recipe, add oil to a medium-sized sauce pan over high heat. Once hot, sauté your shallots for about three minutes until they become golden brown. Stir this while adding the garlic, rosemary, and ground black pepper. Continue cooking for three more minutes. Remember to stir often to keep the shallots from burning.
Next, pour in the balsamic vinegar and allow the mixture to cook until it evaporates and leaves a syrup. You can then pour in your wine and allow it to cook until it is reduced by two-thirds.
Then you can pour in the beef or chicken stock and bring the mixture to a boil.
Turn down the heat and allow the sauce to simmer until it is once again reduced by two-thirds (about 1 cup). Next, remove the rosemary and garlic.
I prefer to do my sauce well in advance so as to allow plenty of time for preparation. To season, just add a little salt and then whisk in a teaspoon of butter.
If there are any juices left over from your steak, now is the time to add them in. You may then serve this delectable sauce poured over your beef wellington.
Beef Wellington Recipe - The Key to a Perfect Meal
Beef Wellington is a sophisticated beef recipe whose roots go as far back as 1820. This is a classic British meal featuring tender meat encompassed by a pastry and topped with a lavish demi-glace gravy. It is ideal for special occasions and for weekend dinner parties. This work of art is well worth the energy it takes to make.
I enjoy the richness and magnificence of this recipe, especially for elegant winter meals. There are 2 widespread problems making it: overcooked beef and soggy pastries. It really is not difficult to produce, but the key is that you must cook the beef perfectly. The best temperature to cook the meat to is 125 degrees exactly.
Beef Wellington is made with a center-cut beef tenderloin segment. A beef tenderloin, referred to as a filet in France and America, a fillet in The UK, an eye fillet in Australia, is taken from the loin of beef. Modifications of Beef Wellington may include preparing single servings with Filet Mignon steaks as opposed to the entire beef tenderloin.
A fantastic sauce to go along with beef wellington can be achieved by simmering some dark wine and beef broth in the same container where you have made the pate mixture. The sauce is basically a gravy, so creating it with water as an alternative to wine will make an alcohol-free variation. If you are experienced with Beef Wellington, you already know it's the type of food normally restricted to 5-star cuisine. However, with the correct recipe, it can be easy to make in your own home.
Jake Anders is a world-renowned chef and restaurant reviewer. He owns a network of cooking websites and likes to spend his spare time traveling the world.
November 23, 2021