Get ready for the spring with this herby chicken pot pie
A spring is not a real spring without fresh, aromatic and fragrant herbs. If you want to prepare your soul for scent of the warm breeze, here's a really refreshing chicken recipe to feel the warmth of the spring rays inside. In case you don't want a lot of dirty dishes, this is the perfect one-pan chicken pie with spinach and herbs for an exquisite pre-spring weekend lunch.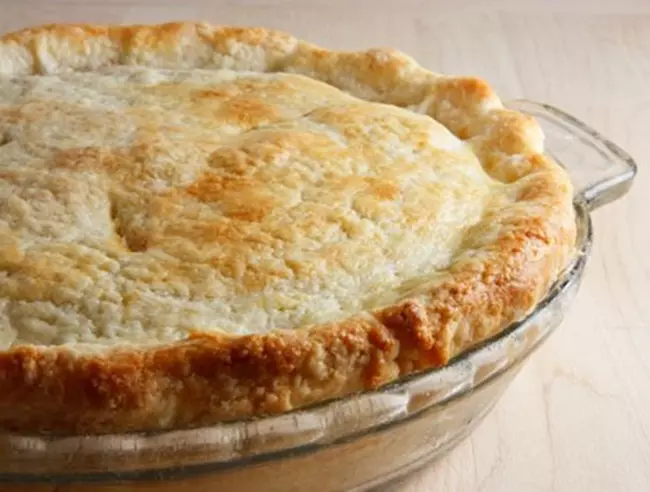 Chicken pot pie (Source: flickr.com / Foodista; License: CC BY 2.0; License link: https://creativecommons.org/licenses/by/2.0/; Link: https://www.flickr.com/photos/foodista/4016836679/in/photolist-77XkAP-ez8Wt8-rvsKDt-rvyN5H-aKG8UR-rth7Hm-8jUY8i-34cbbD-gSn8Qw-5rCZWe-ageABC-tJFLJ-b2WgKa-5ZhPQJ-fNjho1-UEng8o-aEuxm5-9KkAfT-dQvhDZ-78Gv36-n3R4aH-7hWyun-8Qg8jK-atvV92-8G9u9H-9PxvYD-rvtmqU-omX2eR-4erxfK-9PAkTm-BSTep-qTGoX-eoaCJe-giVC3D-cDKbwb-8ioXNi-9PAmgj-9PAk6u-aD1LLy-23jk4Ek-9PAwMW-9hGpo2-afcwu7-61GU3b-nQCUGJ-7wZjCw-5LRvRX-niLkvc-8wjutJ-2oLKPf)
Ingredients:
2 and a half tbsp olive oil (2 for cooking and half for brushing over the pastry)
250 g frozen spinach (defrost just before starting to cook)
a bouquet of spring onions (sliced into 2-3 cm pieces)
400 g ready-cooked chicken breast (boneless and skinless)
350 ml chicken stock (should be hot)
1/2 tbsp wholegrain mustard
200 g frozen peas
200 ml creme fraîche (half-fat)
a quarter bunch tarragon (the leaves finely chopped)
a half bunch parsley (finely chopped)
270 g pack filo pastry
Preparation:
Firstly, heat the oven to 200 degrees Celsius (180 degrees Celsius in case of fan).
Heat the olive oil in a big, shallow casserole dish on a medium heat.
Add the spring onions to the heated olive oil and fry for 3 mins, then stir through the defrosted spinach and cook for 2 mins.
Cut the ready-cooked chicken breast into strips 1 cm wide and place in the pan.
Stir in the hot stock and the wholegrain mustard.
Cook it uncovered for 5-10 minutes.
Stir trough the creme fraîche, peas and herbs, then remove the pan from the heat.
Cover the mixture with the filo pastry, brush it with a half tbsp olive oil and bake for 15-20 mins or until the pie gets golden brown colour.
Donát Novák
February 2020